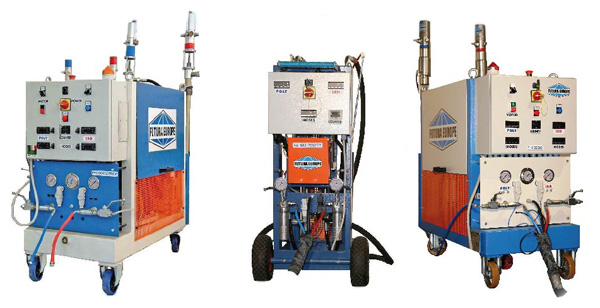 MACHINES FOR SPRAYING POLYUREAS AND
POLYURETHANES AT HIGH PRESSURE
SPECIAL HIGH PERFORMANCE POLYMERS
POLYUREAS –  POLYURETHANES – HYBRIDS
FOR APPLICATION BY SPRAY,  INJECTION OR CASTING
IMPORTERS OF POLYUREAS AND POLYURETHANES MADE IN THE U.S.A.
FORMULATION OF SPECIAL POLYUREAS AND POLYURETHANES FOR INDUSTRIAL APPLICATIONS
For coating pipelines for the transport of aggressive or abrasive liquids, floating offshore pipes, buoys, bumpers, etc.
For the protective waterproofing of bridges, viaducts, tunnels
For the waterproofing of buildings, terraces, roofs. Alternative to tarred coatings and waterproofing mortars with the same cost, including application and guarantee of durability without further intervention
For lining tanks, ducts, aqueducts. Polyureas are resistant to the chemical agents contained in waste waters
For coating polystyrene with rigid compact polyurethane. This allows for the creation of lightweight objects, easy to model and at the same time resistant to blows, long lasting and weather proof. Ideal for scenery and sets.
PROFILE SPREADER MACHINE FOR ELEMENTS IN EPS
SPECIAL CEMENT AND DECORATIVE RESINS

 COURSES FOR APPLICATION OPERATORS
FUTURA EUROPE organizes theory and practical courses for those who intend to start up a new business, but also for those who intend to extend their know-how in this field.