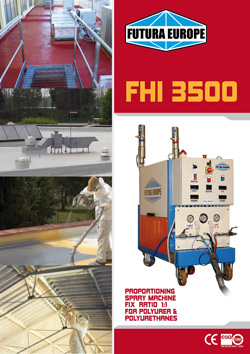 The FHI 3500 is a high power and high capacity HYDRAULIC spray-machine.
The machine has been designed to function in all conditions and with all products, at a ratio of 1:1 in volume. Its outstanding power allows for the application in pipes up to 100 metres in length, and it can function with a discharge head of 40 metres. With this head, it can easily be used on the roof of a 10-storey building, over the entire surface of the roof, without the need of moving the machine which can remain installed on its truck parked in the road.
The machine is very compact. The oil-hydraulic operated tank has been fitted into the frame to reduce encumbrance. This obviously reduces the weight. All this leads to a great advantage if the machine must be installed on a van or truck: less space and less weight.
A series of devices installed subsequent to our twenty-years' experience in the sector allow for the easy control of operations and situations, from the temperature to the pressure. All the moving mechanical parts of the machine are also positioned to facilitate cleaning.
The FHI 3500 is a machine made to last, and above all to avoid high maintenance and out-of-service costs. All parts of the machine are, in fact, STANDARD, which means that they can be found in any technical articles store. FUTURA EUROPE can also provide any spare part at any moment, to facilitate the customer; however, in any case, all parts can be found everywhere. The advantage is that out-of-service times are reduced to an absolute minimum. Of course, our machines do not generally run into problems, and the need to replace any part is extremely rare. However, we thought that the customer, in the case of need, should be able to replace any part at low cost and without loss of time.
The FHI 3500 has no difficulty in spraying foam polyurethane, elastomers and polyureas. The maximum capacity is very high indeed, allowing expert users to achieve high production rates.
At our training school in Rotella, we always give all technical information and adequate training to anyone intending to carry out this activity.