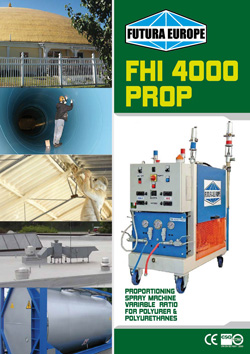 With the FHI 4000 PROP, FUTURA completes its range of machines for spraying polyurethanes and polyureas. This hydraulic machine guarantees a running pressure of over 280 bars.
It is a high performance and high power machine.
The ratio is adjustable. This means that all products can be sprayed without no limitation whatsoever.
All mechanical parts have been designed with special attention given to solidity and efficiency. The machine has a washing system for the isocyanate side, and a cooling system with heat exchange to guarantee maximum efficiency in all climate conditions.
Naturally, this machine is for professionals who are skilled in all applications, both industrial and building or in other special applications.
All the spray guns on the market today can be used. We recommend  FUTURA FT3 excellently tested, self cleaning and low maintenance model.
The components of the machine, according to Futura's policy, are STANDARD and can be found in every technical articles store. Therefore, at low cost and with practically zero out-of-service times.
This machine is the Flagship of our fleet, and without doubt the feather in our cap.