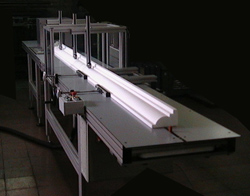 A spreading machine is, in fact, an extruder. With this type of equipment, it is possible, using an appropriate mortar, to coat shaped profiles with straight lengths generally up to two metres or even more, as required.
On this application system, which has existed for years, FUTURA has developed certain solutions which make the work agreeable, simple and fast, without any waste or left-over scraps.
The machines are constructed using materials of the highest quality and strength, with aluminium profiles and plates, and tested and safe electrical parts.  Thanks to their high efficiency, these machines have been very quickly appreciated by the market.