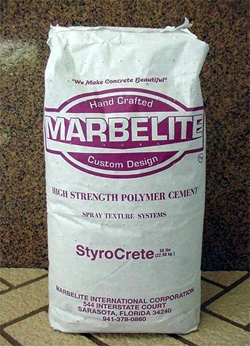 The Styrocrete product has been patented by Marbelite and the brand name has been registered.
The product has been especially developed for spray application on sculpted elements in polystyrene or other materials to which it gives excellent strength. Its properties of hardness are excellent, while it nevertheless maintains a flexibility which prevents it from breaking when it is handled.
It is perfect for coating decorations, signs, cornices and sundry architectonic elements. It is known and appreciated throughout the world as a unique product; many attempts have been made at imitation, but it has never been equalled.
It is applied by means of a "hopper gun" or a "magic plus" type machine.