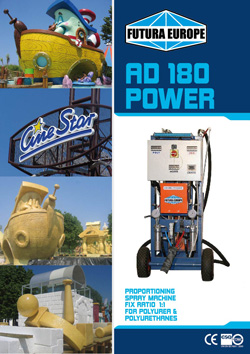 The main feature of the spraying machine AD 180 POWER is that it is very small and light, which makes it particularly suitable for applications carried out in the workshop.
The AD 180 POWER has a compressed air motor, and develops a maximum pressure on the sprayed product of 140 bars, with a 7 bar compressed air supply. It must therefore be classified as HIGH PRESSURE machine.
This machine can spray both foam products and elastomeric polyurethanes and polyureas at a ratio of 1:1 in volume. The suction system guarantees self-feeding from drums of all sizes, without the need of any additional pumps.
The machine has an efficient internal heating system, which also heats the pipes between the machine and the spray gun. The recirculation system, used to ensure that the products are evenly mixed and to aid prior heating, contemplates both short and long recirculation. This means that either the specific pipes which return to the drums of the machine or the pipes that lead to the gun can be used for the recirculation. Therefore: great versatility.
Electricity consumption is low and the power supply at 220 V makes it easy to find the necessary power.
Maintenance has been reduced to a minimum. However, the user is always recommended to take great care because polyurethanes and polyureas are always materials that react when they come into contact with damp air and this can always be the cause of possible clogging.
The AD 180 POWER  is usually equipped with a FUTURA FT3 self-cleaning spray gun with reduced maintenance, which makes the system highly reliable and simple to use.
The price of this device is also very competitive, rendered possible also by the great number of machines that are now sold throughout the world.