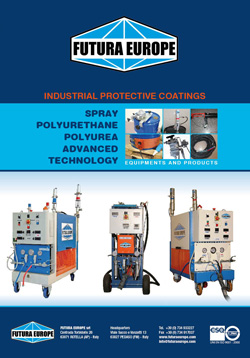 All those who work in the sector of polyurethanes and polyureas are by now aware that these products are among the most "performing" plastic materials and among the easiest to apply. This knowledge conflicts with the fact that polyurethane resins are, in fact, among the products that are most difficult to control. They must be applied with thorough knowledge of the processes involved. Otherwise, after just a few years, fatal flaws and defects will come to light, such as early aging and deterioration.
The equipment used is decisive in guaranteeing a constant, high quality.
FUTURA has gains long experience, both in the field of applications and in the use of the machines. The design and construction of a series of different models has been necessary to satisfy all needs required by the evolution of the market, the complexity of certain applications, and the variety of formulas of the products to be sprayed. FUTURA has now been constructing machines and selling them throughout the world for several years.
FUTURA machines are made with materials of the highest quality, and they use special pumps designed and constructed in order to eliminate the diverse problems encountered in our experience in the field. Thanks to a series of stratagems, spraying is much simpler today than in the past, and the required maintenance is reduced. The FUTURA machines are absolutely the most economic on the market, both because they required minimum, although constant, maintenance, and because spare parts are easy to find on the market since they are "standard" and are therefore also found at absolutely competitive prices.
All the machines and equipment are constructed in respect of the national and European standards in force. They are certified, guaranteed, and supplied with instruction manuals.
FUTURA also holds practical courses to teach correct use of both the machines and the equipment.
The range of  FUTURA machines includes 3 main models:   
AD 180 POWER
FHI 3500
FHI 4000 PROP
All FUTURA machines can spray: POLYURETHANES FOAM, ELASTOMERIC POLYURETHANES, POLYUREAS. On our machines, both temperature and working pressure can be adjusted as required.